Similac Alimentum is a popular non-dairy, hypoallergenic baby formula that is most commonly used for babies with a lactose intolerance, a cow's milk protein allergy or for chronically fussy babies that are prone to gas, colic, and other food allergies. Unfortunately, a Similac Alimentum recall is ongoing in 2023.
Similac is known across the world for their safe and effective powdered infant formulas, but how safe is Similac Alimentum?
As parents, we truly want what's best for our babies. So, for many parents, especially those with children who have known allergies or health issues, monitoring recent infant formula recalls or general baby product safety issues is a consistent task.
Many parents are asking, "Is there a Similac Alimentum recall? If so, why was this infant formula recalled?", "Is the liquid version of the infant formula recalled, as well?", "What happens if my baby continues to drink the powdered infant formula?"
The Houston product liability attorneys at Reich & Binstock will provide answers to those questions and more below. If you feel that your child has experienced adverse symptoms as a result of drinking Similac's infant formula products, call an experienced injury attorney at Reich and Binstock for a free and confidential consultation. Our attorneys work on a contingency fee basis, so you won't pay anything unless you have a valid claim and that claim is successful!
Are Similac Alimentum Infant Formula Products on Recall in 2023?
Yes, Abbott Nutrition, the popular infant formula manufacturers issued a voluntary recall on several of their Abbott formula products, namely three of its baby formula brands after receiving reports of infants getting sick with possible life threatening infections.
The recall affects select lots of Similac, Alimentum, and EleCare formulas.
The infant formula manufacturers located in Abbott Nutrition's Sturgis, Michigan plant manufactured the affected lots. And, the FDA has urged parents and caregivers not to use the products manufactured at this location.
The recalled products affected so many families that it caused a nationwide baby formula shortage.
At the time of the recall, there were four consumer complaints of bacterial infection that was potentially linked to these recalled baby formulas: one Salmonella Newport infection and three Cronobacter infections.
Recalled Similac Infant Formulas
The following Alimentum products were on the FDA warning list:
Abbott Infant Formula Powder
Abbott Similac Alimentum
Abbott Similac Alimentum Allergies & Colic Hypoallergenic Infant Formula
Abbott Similac Alimentum with 2′-FL HMO
Abbott Similac Alimentum Eye Q Plus
Abbott Alimentum HMO
Abbott Similac Alimentum Infant Formula
Abbott Similac Alimentum Infant Formula with Iron
Abbott Similac Alimentum Toddler Drink
How to Check For Powdered Infant Product Recalls
Check the packaging on your Similac Alimentum and Elecare powder formulas for the following information, as this means they're included in the most recent Abbott Nutrition infant formula recalls:
The code at the bottom of the packaging contains K8, SH, or Z2
The first two digits of the code are numbers ranging from 22-37.
The expiration date below the code dates from April 1, 2022 or later.
In addition to the products listed above, Abbott has recalled Similac PM 60/40 with a lot code of 27032K80 for the cans of Similac PM 60/40 and a lot code of 27032K800 for the cases of Similac PM 60/40.
Also, you can enter the lot number on the Similac recall website to see if your baby's formula is on the list of Abbott nutrition or Similac product recalls.
Even if the infant formula looks fine, you won't be able to see the contamination. Abbott is responsible for reimbursing consumers with defective products. For WIC participants, you may need to visit your local WIC office to see how you should move forward.
Can I Substitute Homemade Formulas for Similac Alimentum?
The FDA advises against using homemade formulas as a substitution. Each formula needs to be evaluated by the FDA and homemade options may lack the vital nutrients for infant growth.
FDA Ignores Signs of Contamination in Abbott Nutrition's Facility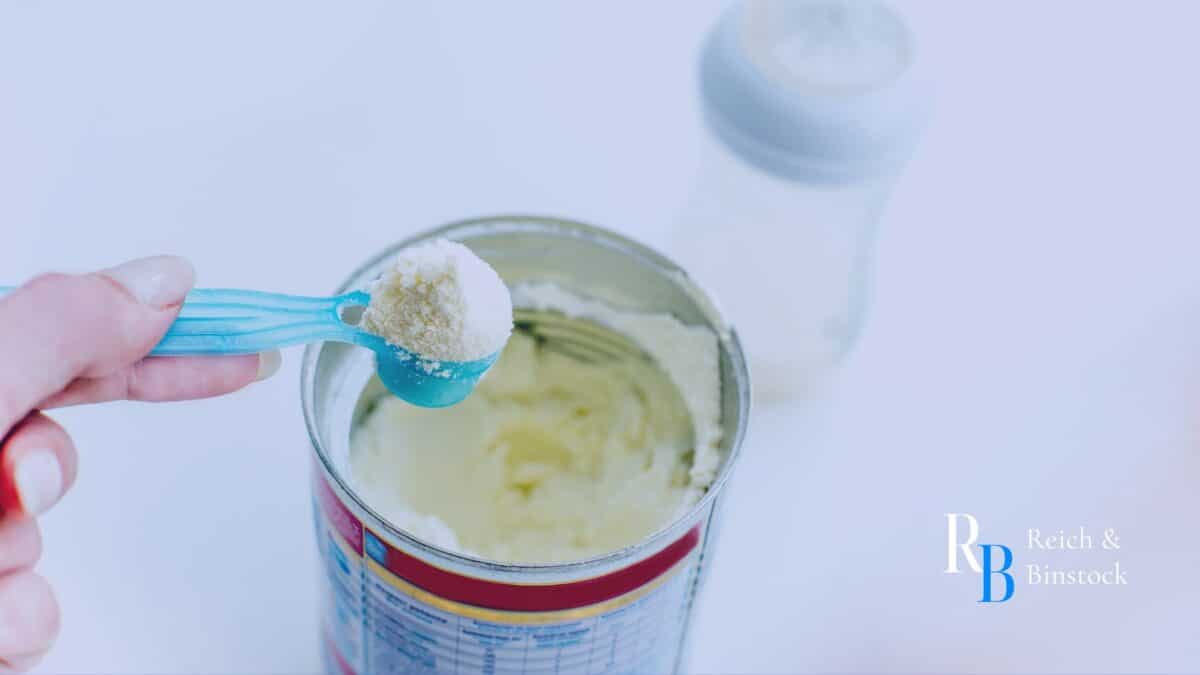 The FDA first issued a warning for US consumers to not consume Abbott Nutrition products made in the Sturgis, Michigan facility, namely Similac Alimentum and Elecare products, but this warning came far too late for many families.
FDA Tests the Abbott Facility in Michigan
The FDA conducted various tests and inspections in and around the Abbott Nutrition facility. FDA investigators reviewed the company's internal records to check for any issues or inconsistencies that may have led to the Cronobacter contamination.
FDA Findings at Abbott Manufacturing Plant in Sturgis, Michigan
After it's initial investigation, the FDA announced the following with respect to preliminary findings at the Sturgis, Michigan location:
Failure to maintain sanitary conditions, especially on the surfaces that were used to prepare and handle the baby formula
Workers entered production area without properly sanitizing their hands and/or shoes
Several positive samples related to Cronobacter Sakazakii within the environmental samples taken
Negative observations by FDA investigators during inspections
Failure to establish a process control system that covers all stages of the baby formula processing
Known environmental contamination with Cronobacter Sakazakii, based on Abbott Nutrition's facility records
Destruction of contaminated products due to the presence of Cronobacter bacteria, based on Abbott Nutrition's facility records
FDA Questions Abbott Formula Manufacturers
The Senate health committee asked Abbott about the recalled formulas in question and why their "voluntarily recalling" took so long.
Abbott admitted that the first report of bacterial infection came at least six months prior from Minnesota health officials.
However, despite all of the unsanitary conditions notated in their reports, the FDA did not stop Abbott from producing their formula products. They didn't even issue a safety notice or recall the infant formulas until reports of infant deaths started to trickle in.
FDA Issues Safety Warning for Abbott Formula Products: Similac Alimentum and EleCare
This safety warning was issued after FDA investigators found that four infants from three different states, Minnesota, Ohio, and Texas became ill after consuming infant formulas from Abbott Nutrition. Of the four cases, all the babies were hospitalized.
After one of the babies died due to a possible Cronobacter infection, authorities began to further investigate the claims.
According to the FDA's recall advisory, the recalled products may have been distributed across the United States and may have even been distributed to other countries.
Why did the FDA choose not to stop Abbott from manufacturing these infant formulas? Why did they choose to wait until they received reports of deaths from multiple parents and doctor's offices?
The answer is unclear.
However, lawmakers, parents, and injury attorneys are all asking for answers. We're all furious over how the FDA handled their investigation into the Abbott facility. We're furious that Abbott had prior knowledge and chose to destroy contaminated products instead of coming forward and doing the right thing.
FDA Ignores Whistleblower for Abbott Formula
To add insult to injury, a whistleblower who used to work at Abbott Nutrition located in Sturgis, Michigan, the same facility that produced the formula affected by the recall, came to the FDA six months before anyone was affected, in October 2021.
According to House Appropriations Committee Chair Representative Rosa DeLauro, they received an astounding 34-page report from the whistleblower. DeLaura expressed that she was alarmed that the FDA drug its feet on following up with the whistleblower's report. She states at the very least, the FDA should have done a formal inspection of the Abbott facility.
The former Abbott employee outlined how he had experienced and covered up many lapses in security and unsafe practices while working at the Sturgis, Michigan plant. And, according to the whistleblower, he believes that had the Abbott plant followed safety protocols, the infant deaths could have been avoided.
Whistleblower Allegations Against Abbott
The Abbott whistleblower alleges the following:
Management intentionally hid information before their 2019 FDA audit
Abbott falsified records regarding safety and quality concerns
Abbott released untested infant formula after discarding contaminated samples
Abbott didn't take any corrective measures, even after learning that some of their testing procedures were deficient
The business has lax practices in sanitation
Abbott intentionally has a lack of product traceability.
Within the Abbott company, there is an atmosphere of retaliation against any employee who raises concern regarding their unsafe practices.
Why is Similac Alimentum Recalled?
The popular infant formula, Similac Alimentum was recalled following many consumer complaints related to bacterial infections, including one possible infant death due to the Cronobacter infection.
Abbott Nutrition "clarified" that the samples related to the consumer complaints all tested negative for Cronobacter bacteria. They promptly assured all of their customers that all baby formula products undergo routine pathogen tests before they hit the store shelves.
However, FDA investigators looked into the Sturgis, Michigan facility, they not only found positive results for the bacteria in question, they also found that the Abbot Michigan plant had prior knowledge of this, as it was notated in their facility records.
Abbott Nutrition countered back, explaining that these were samples taken from non-product contact areas in their Sturgis, Michigan facility. In Abbott's official statement, they inform parents that pathogens, such as Cronobacter Sakazakii can be found in various areas around the home, such as the kitchen, as well as in other areas outdoors. They also stated the importance of following package instructions for the proper preparation and storage of all their powder formulas, to help reduce the risk of bacterial infections from contamination.
After the FDA announced an additional death from Cronobacter Sakazakii attributed to a specific lot of Similac PM 60/40, a product that was not included in the original infant formula recall, Abbott added this formula to their voluntary recalled products list.
Possible Life-Threatening Bacterial Infections Ignored By Infant Formula Manufacturers and the FDA
Cronobacter Infection
Cronobacter infections can be devastating, especially for premature infants. In severe cases, it can lead to meningitis, sepsis, or even death. This type of infection can also cause bowel damage that can spread to other parts of the baby's body. Infections like this and necrotizing enterocolitis should not be allowed to occur.
Cronobacter Infection Symptoms
The symptoms of Cronobacter infection include:
jaundice
poor feeding
fever
irritability
consistent crying
very low amounts of energy
temperature changes
abnormal body movements
grunting breaths
seizures
brain damage
intestinal damage
Salmonella Newport
Salmonella Newport typically causes gastrointestinal issues, and in more severe cases, can lead to infant death. The symptoms include abdominal cramps, fever, and diarrhea. Infants that are affected more seriously may present with high fever, rapid temperature changes, blood in their urine or stool, lethargy, headaches, and rash.
Abbott Named in Powdered Infant Formulas Lawsuit
Before the Similac Alimentum and EleCare recalls, Abbott Nutrition was already involved in a lawsuit related to infant formula products under the Similac brand. According to the civil lawsuit, Abbott's manufacturing facility knew or should have known that Similac's infant formula posed an increased risk for necrotizing enterocolitis (NEC) especially in premature infants.
Necrotizing enterocolitis is a rare condition that causes mainly premature infants to have intestinal inflammation, which leads to tissue death. In more severe cases, the bacteria from holes in the infant's inflamed intestines can leak into their bloodstream or abdomen, which leads to serious illness or death.
In the past, powder infant formula has been linked to deadly NEC outbreaks in neonatal intensive care units.
Studies published as far back as the early 90's showed that premature infants that were fed similar powdered infant formula have an increased risk of developing necrotizing enterocolitis. And, the current lawsuits allege that Abbott Nutrition and Mead Johnson, producer of Enfamil, failed to adequately warn consumers about increased NEC risk in premature infants. They also didn't provide adequate instructions on how to use their formula products properly on the packaging to help avoid this NEC risk.
How Do I File a Lawsuit Against Similac Alimentum?
Reich & Binstock, a personal injury law firm located in Houston, Texas is currently accepting Alimentum induced injury cases across all 50 states. If your baby had an infection after drinking the Similac products mentioned, contact one of our personal injury lawyers immediately for a free consultation. If you're in need of Similac or Enfamil infant formula alternatives, read our related blog for more information.
If you're unsure of how to sue a company for damages, working with a personal injury lawyer is a great way to start. Our injury lawyers work on a contingency fee basis, so you won't owe us anything unless you have a valid injury claim and that claim is successful. To schedule your free consultation with us, please call our office at 713-622-7271 today.